The Marketing Path to 2020 - a Review
by Adam Basheer, on 06-Sep-2017 16:30:45
A recent report by The Economist Intelligence Unit has described how marketing will change and develop between now and 2020 and what is important for your business to focus on. The report has been conducted by analysing two sources of information and provides some interesting statistics. The first is a survey of 499 Chief Marketing Officers and senior marketing executives worldwide, and the second source is a series of in depth interviews with senior marketing executives. The report suggests where the future of marketing is headed for companies over the next four or five years and provides tips on how you can set your business on course for success too. This blog outlines the main points uncovered by the research.

Over the past decade or so, marketers have been trying to gain an understanding of the customer through personalisation. The survey and interviews suggest that as we move towards 2020, marketers are trying to combine a wide knowledge of the customer with specifically targeted and timely delivery of appropriate marketing materials. This can be done specifically through a good inbound marketing plan, in order to gain a better return on investment.
Another main point in the report shows the three main technology trends which will have the biggest impact on marketing across the globe by 2020. These three trends are mobile phones and networks, personalisation technologies such as geo-targeting and the internet of things.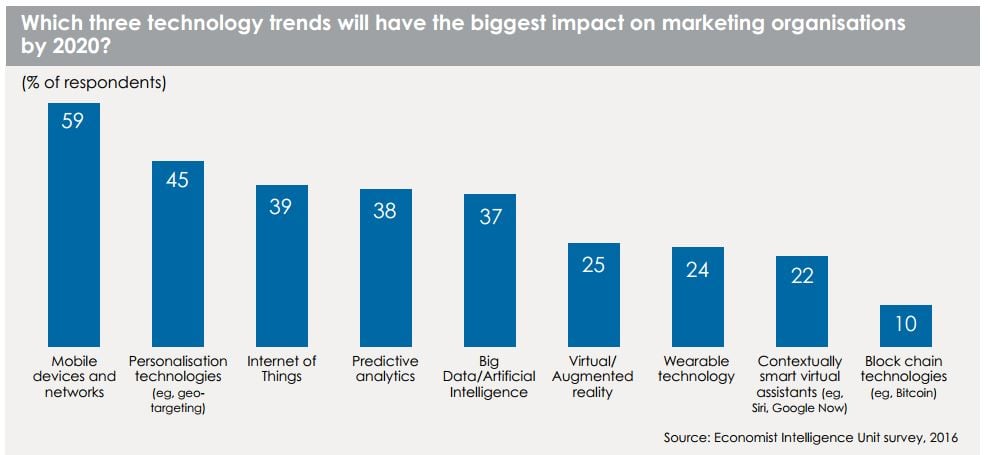 This shows that there will be a shift towards small screen or "no screen" marketing, rather than traditional methods such as radio or TV advertising. This can be seen by only 15 per cent of the executives expecting to use TV as a channel to the customer and only 7 per cent expecting to use radio. This is contrasted by 63 per cent of respondents expecting to use social media and 53 expecting to use the web in their top channels to the customer.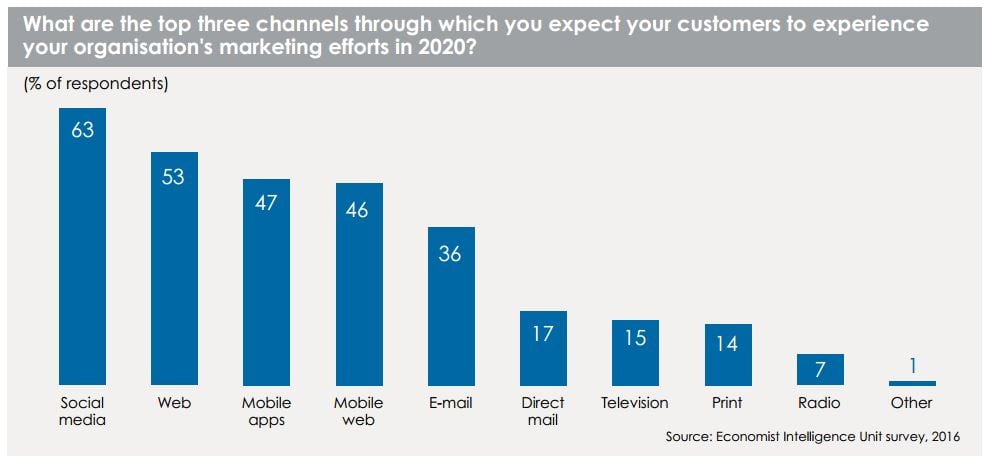 These channels are easily personalised to each customer and will therefore be more important to marketers in the near future. This will create an environment where knowing a customers' immediate context is a massive advantage in the marketing field. This switches the focus to data and systems and away from media and big screens, although not entirely.

The executives surveyed believe that a consistent, efficient and personalised experience for the customer throughout the buying process will lead to an increase in customer loyalty and brand value. These two points are what the respondents saw as the most important aspects they aim to improve by providing the customer with a positive experience. 86 per cent of the executives surveyed believed that they will own the end-to-end customer experience by 2020 through personalisation and a fast and efficient process.

On the path to 2020, owning the customer experience by creating personalised content will become the forefront of marketing. Advancements in technologies such as mobile networks and apps, personalisation technologies such as geo-targeting and the internet will be key to marketing over the next four years. This means that the channels that are easily personalised, such as social media, the web and mobile apps will become more important than traditional publishing channels such as television and newspaper. Creating a positive experience for the customer through consistent, relevant and personalised content will be vital in improving customer loyalty and brand value within your business. According to Kristen Lemkau, an interviewed respondent in the survey, "You're no longer marketing AT people. You're influencing them in an environment where they've already had a chance to form a view."
Talk to the marketing consultants at Fit 4 Market to find out more. Fit 4 Market can provide advanced lead generation strategies, integrated marketing solutions, and are an experienced inbound marketing agency. What is inbound marketing? Click here.
Fit 4 Market are Marketing Strategy and Inbound Marketing specialists, operating in Adelaide, Melbourne, Sydney, Brisbane and Perth.