How Effective Is Your Website?
by Adam Basheer, on 03-May-2017 12:33:08
Today, businesses of any size and in any industry can benefit from having a website. It is less of the case of reaching for your yellow pages and doing a quick search for a company or supplier you need. Instead, more and more people are using the internet to find what they are looking for. This is largely due to the ease of accessibility of the internet. Think of a website as an extension of your business or as a digital brochure to showcase your product or service. This allows people to quickly gather the information they need from a website, prior to making a purchase decision. A website is key for building an online presence and acquiring new customers. However, many businesses continue to operate with poorly designed websites, or worse still, with no website at all. Consequently, this runs the risk of losing potential customers to your competitors.

Below are three rules to consider for achieving an effective website.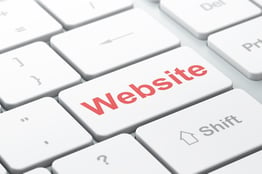 Rule one - have a website. Even if you run a small Bed and Breakfast, the local Snack Bar or work from home, to be found you must have a website. A website aids to build credibility and trustworthiness if you can be found online. This also creates word-of-mouth and referrals from customers who have had a positive experience with your service. However, if you have an old website or a poorly designed website it is worth updating it. Having a contemporary and professional looking website can make positive first impressions and improve your ROI. These days you can re-design a whole website on a limited budget.

Rule two - use the right words to be found. If you are familiar with the term 'inbound marketing' then you may have heard a lot about Search Engine Optimisation (SEO) as it is becoming an effective lead generation tool. In a nutshell, SEO is the process of improving the visibility of a website or a web page in search engines via the "natural" or un-paid ("organic" or "algorithmic") search results. As a rule, you will receive more visitors if your site appears earlier (higher on the page) and more frequently in the search results list. The trick is to write your copy in a way that is pleasing for the reader yet includes the required repetition of key SEO words. Download the free SEO guide for further information and tips.

Creating a content marketing plan is the best way to start. Content marketing comes in many forms including blogs, articles, eBooks, whitepapers and more. Most websites you visit generally have a blog section. Blogs are particularly effective for keeping your website fresh and utilising keywords. However, keep in mind that the keywords must be relevant to your industry and be what people are searching for. Not only will this improve your ranking but will also build your brand awareness.

Rule three - less is more. The key message about your business and the product/service you provide needs to be clear, concise, easy to read and relevant to your target audience. Your website needs the right balance of space, copy and imagery to engage the audience and lure them into clicking through your website. Try to think like a consumer when you're working out what should go on your website; what information will your customers be looking for? The other trick is - don t' create too many layers to your website; it will negatively affect your SEO and more importantly, will frustrate your customers.

If you are looking to create a website or re-design your existing one, contact Fit 4 Market as we can guide you through the process. This includes website copy and keyword search for achieving excellent organic SEO results.
*Source: http://www.flyingsolo.com.au/forums/sales-marketing/14855-you-one-65-aust-businesses-w-out-website-whats-stopping-you.html
Talk to a Fit 4 Market consultant operating in Adelaide, Melbourne, Sydney, Brisbane and Perth