How inbound marketing works for MSPs
by Adam Basheer, on 20-Mar-2017 17:22:38
As a managed service provider (MSP) you know you are in a competitive position to revolutionise the way businesses, in particularly small businesses, operate day-to-day. From software maintenance, network monitoring, data backup and recovery to everything else in between. These are some key benefits you can provide to many businesses of all types and sizes. However, the adoption of this model is very slow.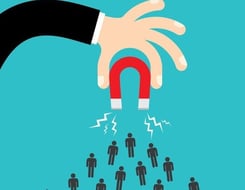 So how can you use these triggers to encourage businesses to who haven't yet transitioned to the MSP business model to do so? Firstly, it is important to understand what may be the setback factors which are causing the slow adoption rate.
Awareness
Although MSPs have been around for a long time, people are still unfamiliar with the term 'managed service'. Not many people understand the role of a MSP let alone the benefits that they can bring to a business. Without this awareness, you will struggle to transition businesses from the using break-fix model and they will continue to believe that operating on an issue-to-issue basis is the right solution. Little do clients know that this type of business model can also affect business efficiency, productivity and costs.
Perceived risks
On the flip side, there are businesses that have some knowledge of MSP yet are reluctant to make the transition. Yes, businesses are willing to use advanced; data protection, cloud-based solutions, security, anti-virus software and integration of systems, though are more focused on the risks and concerns that are associated with the transition process. Some risk/concern factors include:
Where will the critical data be stored?

Who will have access to this data?

Will the data be affected in the transitioning process?

Is the managed service business model a right fit for my business?
A solution to assist in the transitioning process is to develop an inbound marketing strategy. This powerful online strategy has the capability to build awareness of the MSP community providing you with the opportunity to communicate the benefits of adopting a managed service model. The tool also allows you to reach and communicate directly to IT Managers, CIOs, CFOs and business owners who have the authority to make the transition decision.
How inbound marketing works for MSPs
Inbound marketing is an online marketing technique used to generate leads. What's so good about this technique is that clients can find you, saving you time and money trying to find them. Some traditional or outbound marketing techniques are still relatively effective if they are executed correctly such as direct mail. However, due to the increase in online searches coupled with increases in social media and mobile phone usage, this has caused a shift in customer purchase behaviour. Therefore, you are more likely to attract prospects using online marketing methods such as social media and SEO, rather than from an advertisement in an IT or business magazine.
How so?
The process involves driving prospects through the sales funnel until they become a customer. The key objective here is to create compelling content that is educational, valuable and specific to what the target audience is searching for. Developing content based on solutions and answers to the audience's questions and needs will help to minimise any perceived risks and concerns relating to the product or service.
The content can be in the form of eBooks, guides, blogs, webinars and whitepapers. Example of content topics includes backup and disaster recovery, security, storage and network operations.
To convert a lead into a client you must provide ongoing content for different stages of the sales funnel. In doing so you need to have a clear understanding of their buyer's journey to know what content they will be searching for next. For instance, an IT Manager of a SME company searches for a disaster recovery solution and comes across your blog in their search results which leads to a download of a guide or an eBook. This is how a lead is generated.
The advantages of creating ongoing targeted content:
You are perceived as a trusted resource in the subject matter

Prevent your prospects from shopping elsewhere

Reduce perceived risks associated with MSPs

Build awareness of MSPs
Inbound is a great solution to assist businesses to transition to the MSP model. Steering away from the salesy approach to a more consultative approach is paramount for capturing and nurturing leads through the sales funnel. Also, having pre-existing knowledge of how the audience searches for content and what they are searching for will attract the right prospects, convert the right leads, close the sale and retain clients over a long period.